Softball BC's New Executive Director Announced
---
---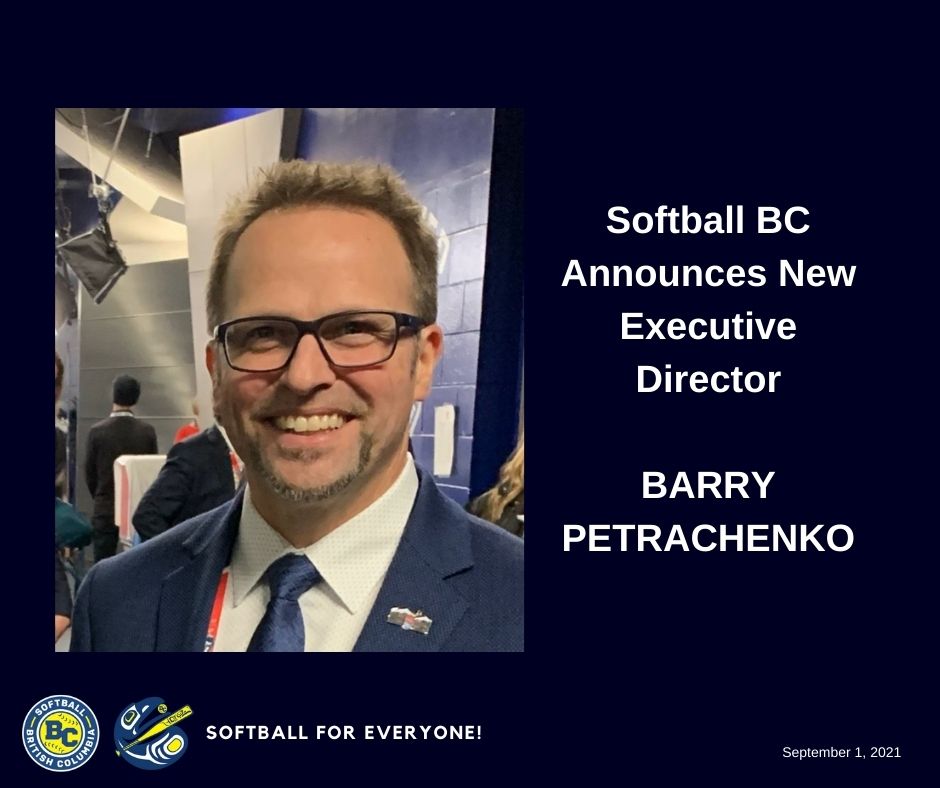 ---
Re.-New Executive Director BC Amateur Softball Association.
To Our Valued Membership,
As you are all aware, Rick Benson our current BC Amateur Softball Association Executive Director has decided to retire at the end of 2021 after many years of extraordinary service to our association and membership.
Our Softball BC Board of Directors created a hiring committee in the spring of 2021 to begin the hiring process for a new Executive Director to take over for Rick upon his retirement.
I am happy to say we have completed the hiring process and we take great pleasure in letting you all know that we have come to an employment agreement with our new Executive Director, Barry Petrachenko, who will be starting his employment with the Softball BC office Tuesday, September 7, 2021.
Barry Petrachenko comes to us with a plethora of experience in local, provincial and national sport sector administration management. Barry was the Chief Executive Officer for BC Hockey for 20 years where he managed a membership of 60,000 and prior to that was the Executive Director of Alliance Hockey in Ontario with a membership of 25,000 for almost 7 years.
Early in Barry's career he earned a baseball scholarship to LaSalle University in Philadelphia, PA where he completed a degree in Business Administration with a major in accounting. After graduation from LaSalle, Barry played for Baseball Canada's Senior National team for 3 years while also working as an assistant coach with the Academy of Baseball Canada and then moved into a position as Executive Director of the Stratford Baseball Association prior to transitioning over to the hockey sports sector in 1993.
Rick Benson will work alongside Barry Petrachenko orientating and mentoring him regarding our organizational structure and setting him up for success prior to stepping back and handing over the fulltime operations of the BC Amateur Softball Association to Barry. Rick has done an amazing job with the BCASA and will leave Barry in an excellent financial and operational position to carry on managing our provincial organization.
Barry is looking forward to meeting all of you at Softball BC and starting this new chapter in his career. He is very excited to be a part of such a great provincial sporting organization.
Please feel free to contact Barry in the coming weeks and months to welcome him to our Softball BC family. I'm sure he would be happy to hear from you. I know he will be reaching out to our members to introduce himself as well.
Sincerely,
Graeme Duncan, President